O FOR A THOUSAND TONGUES TO SING
Let us give a tremendous thank you to our choir members who sang in the Festival of Worship in LA on Sunday. They joined their voices with 1,000 other people from across the region to lift up praise to God in song. The featured music was composed and directed by John Rutter (a big favorite of our choir director, Julie Ramsey).
It was inspiring to see people of faith from many denominations come together for a worshipful experience. It's a reminder that in spite of all of our differences there is in us all a need to praise and worship. We are more alike than different and the concert was a great witness to that truth.
The name of the concert was Dona Nobis Pacem, which means Lord, grant us peace. It was really easy to see how people coming together to offer praise is an instrument of peace-making.
So thank you to the choir and all who worked so hard in rehearsals to bring us reminders of hope and peace.
Grace and Peace,
Dave Clark
Senior Pastor
Last chance to complete a survey!
As part of our process to provide feedback on the worship and ministry at Bay Shore, you have an opportunity to complete the 2017 Congregational Survey.  This year's survey will provide your feedback on the ministry of Pastor Dave Clark.  Surveys will be available and accepted through Tuesday, 2/21. You can participate by using the on-line survey link: https://goo.gl/forms/RL5tD1A4JjOAtJtH3 or you may receive a copy of the survey before worship on Sunday.  Your feedback is appreciated and will be used to strengthen our worship experience.  If you have already completed a survey, thank you!  If not, we look forward to hearing from you!  Please contact Suzanne Campbell @ Bay Shore Personnel Committee (562) 756-8008 if you have any questions.
SUNDAY, FEBRUARY 19 AT BAY SHORE CHURCH
 Worship at 9:30 a.m.
Sunday School & Nursery Care
Seventh Sunday after Epiphany

Pastor Dave's Sermon: "What Will Happen When I Die?"
What do you believe about an afterlife? Is there a literal heaven and hell?
Do Christians have to believe in a bodily resurrection in this world? Do we simply end?
Does our energy flow into the energy of the cosmos, making us part of everything that exists?
Do we simply end? What carries on of us in this world?
How do you understand the term everlasting life?
Scripture Reading: Revelation 14:7-13
Lay Reader: Ron Hoppel
Kathleen Dyer, flute
Chancel Choir Anthem: Shall We Gather At the River
Handbell Duet: It is Well With My Soul
Solo: Deep River – Kurt Roudebush, bass
Greeter: Jennifer Hayter
Flowers on the altar are given by Cassie Berrisford in loving memory of John Berrisford.
Flowers on the pedestal are given by Dallas and Michelle Haun in memory of Dallas Haun Jr.
Flowers in the niche are given by Tracy and Emily Maples in celebration of Monty's birthday.
Worship Attendance February 12: 186 Adults  21 Children
Lay Reader: Ron Hoppel
Ron has resided in Long Beach for sixteen years and recently joined Bay Shore Church on Sunday, February 5. His favorite church involvement is singing in the Chancel Choir. Ron was voted in by the congregation to be the new treasurer for Bay Shore Church. He has a daughter, Natalie, who lives back East in Maine. Ron is retired from the Industrial Products industry and in his spare time enjoys playing golf and reading.
Precious Lamb Preschool Birthday Party CANCELLED
Due to the impending storms that are forecasted to be here on Friday and Saturday, we have decided to CANCEL the Precious Lamb Birthday Party scheduled for this Saturday, February 18th.  If you were planning to attend we would love for you to instead call our office to schedule a personal tour to see our school, the new MASE Room, and meet our adorable students. Call 562-243-1715, ext 12.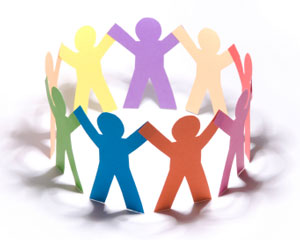 Grief Support Group – Tuesday, February 21 at 4:30 p.m.
Our Faith Community Nurse, Carolyn Remley, and Pastor Susie facilitate a grief support group for anyone who is experiencing grief over the death of a loved one (including those who are experiencing anticipatory grief for a loved one who is terminally ill). This open group meets once per month at 4:30 p.m. on the third Tuesday of the month to share with each other, listen to one another, and offer mutual support. Our conversations are held in confidence, we share some helpful resources, and each gathering also includes time for prayer, reading of scripture, or other devotional elements. If this seems like something you need, we hope you will join us. If you have questions about this group, please email pastorsusie@bayshorechurch.org
Habitat for Humanity Information Meeting – February 22
For over 25 years, Habitat LA has been putting faith into action to build homes and hope for families in need of affordable housing, and we are so excited to announce the upcoming construction of over 50 homes in the Long Beach area starting this year. These projects will not only provide many low-income families the opportunity to change their lives through homeownership, but will also serve as a catalyst for bringing people of all faiths together in service. Habitat LA will be hosting an informational meeting for Long Beach faith folks, in order to learn more about our upcoming projects in the area, and how to get involved on Wednesday, February 22, 7:00pm – 8:30pm at St. Luke's Episcopal Church, 525 E. 7th Street, Long Beach, CA 90813.
Women's Lunch Bunch, Thursday, February 23 at 11:30

Bring your lunch and, if you wish something to share. All women are invited, so bring a friend or neighbor to join you. This month's topic, reviewing various women's activity suggestions for 2017. For additional information contact Jean Brodie at 714-334-3918 or Barb Raymond at 714-330-5628.
The Best of Broadway Meets the Best of Opera – February 26 at 4:00 p.m.
Our own Shannon Miller, soprano and Aubrey Hawkinson, alto will be featured in a local concert: The Best of Broadway Meets the Best of Opera. The show will take place in the auditorium of the Seal Beach Center for Spiritual Living, corner of 5th Street and Marina Drive in Seal Beach. Robert York will be accompanying the singers on Broadway and Opera favorites. Come support our own and see them show off their many talents! Tickets are available at sealbeacharts.org, by calling 562-429-3992 or at the door. $10.00 for adults, and children and students are free.
Youth Group – Sunday, February 26, 4:00-6:00 p.m.
All middle and high school youth are invited to join us for food, faith and fun in the Youth Center! If you are not on Pastor Susie's youth email list and would like to be added, please email pastorsusie@bayshorechurch.org.
Pub Theology – Tuesday, February 27 (Please Note: Rescheduled)
Please join Pastor Dave and fellow friends and parishioners at the Crab Pot, 351 Marina Dr. Long Beach at 7pm, for lively conversation and fellowship. If you plan to attend please email Pastor Dave at daveclarkoc@gmail.com.
Fundraiser 2017, Sunday, May 7 – Save the Date!
We will have lots of fellowship, fabulous food and fun! This is the time to consider your donations, either live in the form of a dinner, harbor cruise or group event and silent auction items; family activities, baskets, electronics, event tickets, homemade goodies.
Thank you in advance for your help and support.
Leslie Groene- Fundraiser Chair
SUPPORT BAY SHORE WITH SCRIP
What is Scrip?
a provisional certificate of money subscribed to a bank or company, entitling the holder to a formal certificate and dividends.
a Bay Shore Church contribution that allows the bearer to redeem a gift card for face value, the company providing cash back to Bay Shore Church.
A really smart thing for YOU to do!
Did you know that we have a variety of gift cards on sale at the Scrip table in the Fellowship Hall every Sunday after worship? You can also place an order for the gift cards you need or call Charlene in the office to check on the cards in stock. For the full order form stop by church or CLICK HERE.  Thanks for your support!
Reserve a winter getaway soon…
The snow has arrived and the mountains are calling you. We have a beautiful cabin up in the local San Bernardino mountains near Lake Arrowhead. Skiing, snowboarding, sledding and snowman making are all available. Why not take the family up for a weekend to enjoy the snowy mountains. The firewood bin is fully stocked for the fires to keep you warm while sipping hot chocolate. The large family room has big windows to enjoy the mountain view, and all of the snow. One of the perks of being a member at Bay Shore is that you can rent our Church cabin for $100 per night. There are plenty of sleeping options so take friends as well. A $20 refundable key deposit is required. Call Charlene in the office to reserve your dates.
Dignity Healthy, St. Mary Medical Center
It is with great joy that we accept your donation of $450 in Smart and Final Gift Cards. On World AIDS Day, December 1st, 2016, we came together as a program with our patients to remember all those who have lost their battle with HIV/AIDS, and during this time we also remembered to thank Bay Shore Church for your continued help throughout the years. May the Grace of God and the light of goodwill continue to fill and bless the souls of all those that come together at Bay Shore Church.
Sincerely,
Lorena Fortiz
Administrative Coordinator
St. Mary Medical Center – C.A.R.E. Program
INTERNMENT FOR ALICE GABRIELSON
An outside internment service will be held for Alice Gabrielson next Tuesday, February 21, 2017 at 2:00pm at the Forest Lawn (Sunnyside) Cemetery, located at 1500 East Antonio Drive, Long Beach, 90807, 562- 424-1631, with The Rev. Dr. David Clark presiding.
Are you interested in serving as an USHER?
If you regularly attend Bay Shore and are looking for a way to serve the church and meet more of our congregation while working with some nice folks on Sunday mornings, ushering may be something just for you!
Please contact Cassie Berrisford for further information and details at cassieberrisford@gmail.com.
Bay Shore Cookbook
Parish Outreach will be publishing a Bay Shore cookbook this year. We would love to have your recipe(s). Please bring recipes to church and leave them in the basket at the COA sign up table OR email to Jane Loper (jane.loper@verizon.net) Please put RECIPE in subject line. Thanks!
Food for the Flock – February – Hot and Hearty Savory Soups
Packaged and Canned Soups
"Feed our friends in need – keep the pantries stocked"
Food donations stock the pantries of the agencies feeding the hungry and needy families of our city including: Cooperative Protestant Ministry at CSULB, Food Finders, and St. Mary's CARE Food Pantry. Donation bins are located in the narthex and fellowship hall.
February Coffee Servers
February 19: Phil & Charlene Bosl, Kathryn & Robert Flippen
February 26: Traci & David Reitz, Geoffrey Paterson
Four volunteers are needed each week to make and serve coffee and serve donuts. The sign-up sheet is posted on the hallway bulletin board or please call Charlene in the church office at (562) 433-0401.
The following dates are available for Altar Flowers:
February 26, April 9,30, May 28, June 4,18,25, July 16,30,
August 13,20,  October 15, November 5,26, December 3. The cost for altar/pedestal flowers is $40. The flower chart is located on the hallway bulletin board just outside of the church office.
Tuesdays with the Pastors
Join Pastors Dave and Susie, fellow parishioners and friends at Babette's on 2nd for lively conversation, fellowship and a refreshment of your choice. They meet every Tuesday afternoon from 4:00 to 5:00pm. Drop on by!
PRAYERS OF OUR CHURCH COMMUNITY
Denise, Traci and Diane. Anna. Chris. Bill & Mary Lou Nicolai. Joel Benson. Edgar Remley. Jean Remley. The Elliott Family. Lou & Sue Leopold. Sue Bloch. Norma Chavez. Meg & Shelly. Pat Montague and family. Marie Kennett. Carol Craver. Alan Fox. Charles Maples, Sr. Joe Camp. Deanne Mejia. Joann Scribante. Andrew Lanz. Cynthia Lanz. Kurt. Suzanne Clarke. Kristi Waterman. Peg Heglund. Lay Janie Becker. Diane Guyett. Norma Marter. Susan Davis. Salwa Morris. My sister and father. John Williams. Jim Lenahan. Dave Ream. Joyce Nelson. Pat Montague and family. Sandy. Esther Watts. Mark Rasile. Rick Wallace. Bev Rose. Max. Susan Marshall. Robbie Storbeck. Barbara Smith Johnson. Karl Johnson. Jolene Clark. Jody Elison. Jeanine & Joel Benson. Susie Harrison. Willodeen Maloney. Carrie Townsend. Jacob Arujo. Sonia Hinkley. Peggy Hamlin. Derrel Kenzel. Noel Rominger. Bill Durslag. Mary Forbes. Walter Hughes. Carey Haynes. Whitney Danielson.
Souls of: Robert Ellis. Sharie Marquez. John Tavarolis. Rev. Al Opdyke. Bob Guyett. Thelma. Harry Minor. Irma Meza-D'Amico and comfort for her family.
General: God's wisdom in guiding our children.
To add concerns for our Prayer Chain please contact Jane Loper directly at 562-431-1943, email jane.loper@verizon.net., leave a prayer concern in the narthex box, or send an email to the church office through the contact form. Let Jane know if you would like to receive weekly prayer chain email.
Expanding Boundaries
The "eye for an eye" injunction comes from the legal code in Exodus and may have been intended to keep punishments for crimes evenly balanced, weighed on a scale, so that if someone loses a thumb in a crime they don't lose an eye as well but just a thumb. The Latin legal term for this is Lex talionis or the law of retaliation, one for one. It expresses the notion of retributive justice or that the punishment should fit the crime. What's so wrong with that, we might ask? But there goes Jesus turning over tables again. In today's scripture he stretches our notions of compassion and messes with our ideas of justice as a scale. Jesus wants us to turn the other cheek, give to people who sue us, love our enemies. At the very least these words should give us pause, especially when we think about our system of justice and how we treat people who are incarcerated, both when they are in prison and when they get out.
Do we hope for redemption and compassion in the way our legal system hands out prison terms, or do we promote vindictive punishments and retaliatory sentences? How do we treat those who have been imprisoned? What hope do we hold out for them? Here in the United States, we make it difficult for people to get work and find housing. We withhold the right to vote and thus we turn every incarceration into a life sentence.
The General Synod of the United Church of Christ continues to call upon all of us to work toward reforming our nation's justice system. We are called by Jesus to think beyond scales and an "eye for an eye." He calls us to expand our understanding of justice. If you want to learn more about our criminal justice system and how you can promote training and rehabilitation in prisons and work to reduce mass incarceration go to ucc.org and search for "prison reform."